Javier Gutierrez and Vivaz is an exciting band from New Orleans,that plays world musical textures, combining the virtuosity of Jazz,Brazilian,Spanish flamenco-influenced guitars with seductively exotic Latinjazz sounds and New Orleans rhythms.

Viváz as it's name means "Vivacios" is a band that was formed in New Orleans,Louisiana in 2001. This is a vibrant and highly energetic musical group with an extraordinary talent. The band is Comprised of musicians from South American countries and the United States. An original sound is achieved by these energetic musicians,accomplished vocals, all led by founder,leader guitarist/vocalist JAVIER GUTIERREZ (Originally from Bolivia) The group is seasoned with multiple percussionists, piano, upright /electric bass, and a powerhouse brass section which lends itself to their unique and harmonious sound.
Viváz is able to create musical dimensions of rhythms and vivaciousness throughout their shows. This atmosphere has always been a draw for hundreds of followers and dancers that enjoy the lively musical shows, that the band is known for creating every time!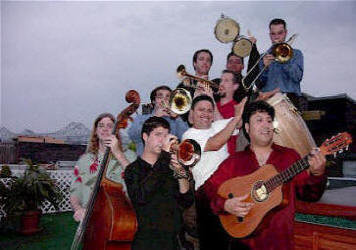 Viváz performs in many venues around USA and the world. Most Notably Vivaz has had the pleasure to perform annually at the New Orleans Jazz and Heritage Festival.This festival is considered one of the largest festivals of it's kind in the country.Vivaz has consistently delivered spectacular and outstanding concerts.

Vivaz will release their remastered CD entitled, "MANANTIALES" (Spring Waters). This CD will capture the vibrant essence and excitement of Latinjazz and world Music